The company is already in Dizraptor's portfolio since May 10. New offerings are possible in the future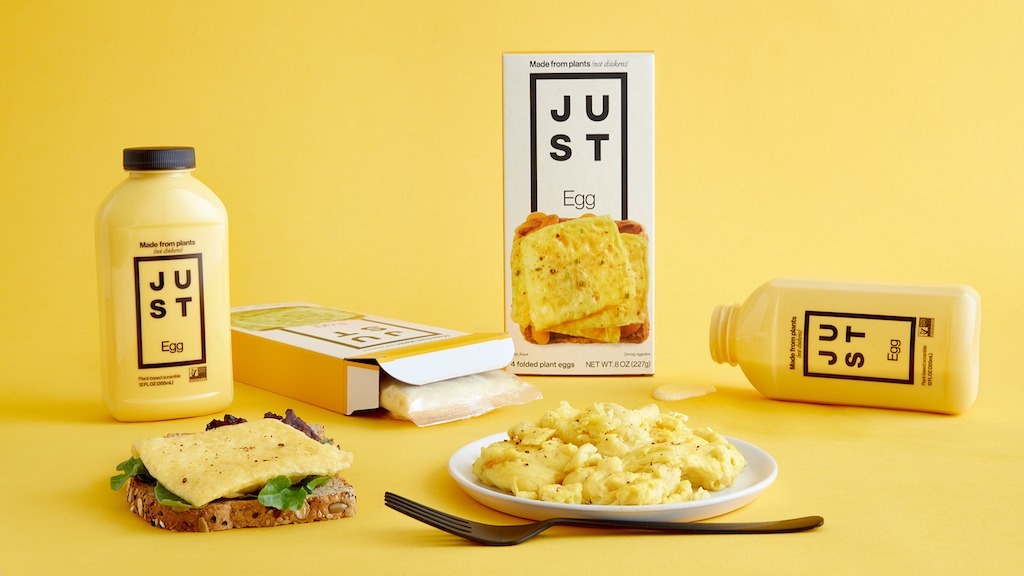 Everything you need to know about fake food. Who makes it and why
About Company
Eat Just is the only company in the world that develops animal alternative products in two diverse formats – both plant-based and cell-based. On the plant-based side, Eat Just is known for its mung bean-based egg substitute called "Just Egg" which comes in bottles and looks like beaten fresh eggs. It also produces a mayonnaise-like product without eggs.
The company was founded in 2011, San Francisco. To date, Eat Just claims to have sold the plant-based equivalent of 300 million chicken eggs. The product is sold in more than 20,000 retail outlets (Walmart, Kroger, Whole Foods) and 1,000 food service locations, including Amazon Fresh and Instacart. The company's eggs are also on offer in Dicos, a fast-food chain in China. Just Egg products began rolling out in Canada. The company is also focused on expanding in Asia, Europe, and the Middle East.
In addition to plant-based egg substitutes, Eat Just has been developing artificial meat from animal muscle and fat cells since 2016. At the end of 2020, it received approval from Singapore to sell its lab-grown chicken meat, the world's first regulatory approval for the so-called clean meat that does not come from slaughtered animals. Eat Just ranked 21st in 2020 and 43rd in 2021 on CNBC's Disruptor 50 list of companies offering the most breakthrough technologies.
Market Opportunities
In the first quarter of 2021, venture funding for foodtech companies rose to a record $10B, up 122% from the previous quarter. Eat Just's both lines of business have a great outlook and are fueled by a boom in demand among consumers and investors alike. According to market research firm SPINS, U.S. retail sales of plant-based food rose 11% last year to $5B, with the faux egg market nearly tripling. The plant-based food market is expected to grow at a CAGR of nearly 12% and to reach $74B by 2027.
The inability of conventional farming to meet the increased demand on agriculture and the needs of the global population is one of the main drivers of growth. This has become even more evident during the pandemic when production and supply chains experienced disruptions. Reducing greenhouse gas emissions in agriculture, which is a major source of the carbon footprint, can also be a key factor for the development of plant-based alternatives.
According to the Good Food Institute, more than $360M was invested in cell-based meat companies in 2020 – 72% of all of the funding the segment as a whole has ever received. The Edison Group's research shows that the global market for cell-based meat is estimated to reach $140B by 2030.
Financials and Valuation
As of December 2021, Eat Just has raised nearly $460M from 32 investors, including Vulcan Capital, Khosla Ventures, and Charlesbank Capital Partners. Eat Just has raised $200M in a new round of funding in March 2021, led by the Qatar Investment Authority. It was valued at $1.4B.
According to revenue forecast, released after the second quarter of 2021, company expected to generate sales of between $70M and $80M, down from the $13M it had forecast at the beginning of 2021.
CEO of Eat Just has indicated an IPO is on the horizon for Eat Just, but this timeline has been in flux for years. In September 2020 he told Insider that he wanted the company to reach profitability by the end of 2021 and then go ahead with an IPO, targeting "at least" $3B in valuation. But in the last investor presentation in 2021 it is said that Eat Just could go public "in the next 1-3 years."
Risks
In the investor presentation that summarizes accomplishments of Eat Just during the second quarter of 2020, company slashed its 2021 revenue forecast by nearly 50%. Eat Just cut revenue expectations "due to manufacturing issues related to equipment and downstream partner readiness." Those problems meant the company wasn't getting into new retailers as quickly as planned or meeting demand at ones where it already sold. The startup also felt the pinch of slower business at restaurants, according to the presentation.
In the plant-based egg segment, Eat Just commands more than 99% of the market. Its rivals include Israeli startup Zero Egg. The meat substitute market is more competitive. Here Eat Just competes not only with cell-based meat developers, including Memphis Meats or Mosa Meat but also with plant-based meat makers, including Beyond Meat and Impossible Foods. And while the latter are rapidly growing in the global market, gradually reducing the cost of production, cell-based substitute developers will need time to scale up their technology and reduce operating costs.
Eat Just's lab-grown meat was the world's first to receive regulatory approval for sale in Singapore. While companies in the industry expect regulatory approval for cell-based meat in the United States in the near future, there's yet no published information confirming that. If the approval process in the U.S., as well as in other countries, drags on, it could dampen investor enthusiasm and reduce funding in this segment.
Sources
Plant-based food start-up Eat Just receives $200 million investment led by Qatar, CNBC, March 2021
Eat Just aims to achieve operational profitability by end of 2021, mulls IPO, FoodNavigator-USA, August 2020
Eat Just Mulls $3 Billion IPO To Eventually Make Cruelty-Free Food Mainstream, Forbes, June 2021
Cell-Based Meat To Reach Price Parity By 2025 & Grow To US$140B Market By 2030, Green Queen Media, December 2021