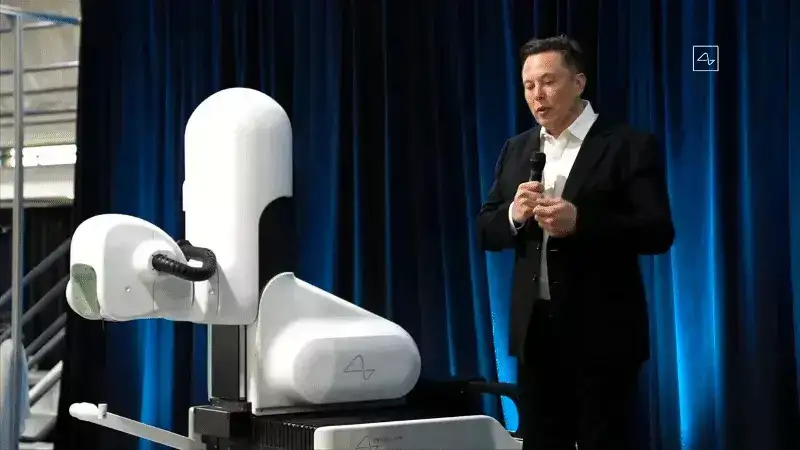 Video about Neuralink
Due to the unstable market situation, this is an offer with an undetermined deadline. Submit your applications, it may increase the probability of a deal!
Elon Musk's company is working on a secure device that connects a computer to your brain. Neuralink believes it will be able to solve a number of neurological disorders, restore motor function and treat paralysis.
About the Company
Neuralink Corporation was co-founded by Elon Musk in 2016 in San Francisco. The company is creating a microchip that is meant to be embedded in a person's brain by a surgical robot. The device's sensors will pick up brain activity with minimal damage and potentially stimulate certain brain areas.
Such technology has many applications in medicine, science, and even entertainment. Limb amputees will be able to control robotic prosthetics. It would be possible to send signals with mind to a smartphone or other smart device, while video game characters won't require a joystick to control them.
Musk's ambition for Neuralink is to connect people's brains to a computer by using a procedure that would be as safe and painless as LASIK eye surgery. This will help treat brain disorders and one day help humans compete with artificial intelligence.
Business Growth Phase
Market Opportunities
According to Market Research Future, the global neural implants market size is expected to to reach $13B by 2030 and will be growing at a compound annual growth rate (CAGR) of 13%. Increasing incidence of neurological conditions such as Parkinson's disease, Alzheimer's, and epilepsy, coupled with increasing awareness regarding brain implant benefits are among the major factors driving the growth of the overall market.
Financials and Valuation
In late July 2021, the company raised $205M in a Series C funding round at $2.15B valuation led by Dubai-based investment firm Vy Capital and GV (Google Ventures). The amount of investment is the largest in the development of neural interfaces to date. Other investors include Peter Thiel's Founders Fund, Gigafund, Sam Altman (CEO of OpenAI), Fred Ehrsam (CEO of Paradigm) and others. According to Crunchbase, Neuralink is currently generating $10M to $50M annually.
The company said that the funds from the round would be used to take Neuralink's first product to market and accelerate the research and development of future products.
Risks
Overvaluation of the market. The brain implants industry is quite young – there is a risk that in the long run this market will grow more slowly than venture capitalists and analysts assume. This could reduce Neuralink's value.
Potential danger of the technology and ethical issues. The recent article from Consequence revealed that "out of a total of 23 monkeys implanted with Elon Musk's Neuralink brain chips at the University of California Davis between 2017 and 2020, at least 15 reportedly died." In addition, "pretty much every single monkey that had had implants put in their head suffered from pretty debilitating health effects". This case stokes up an ethical debate whether these clinical trials are justified. Any future clinical trial restrictions can cause negative effects for Neuralink development.
Sources
https://www.crunchbase.com/organization/neuralink
https://www.marketresearchfuture.com/reports/brain-implants-market-6742
https://www.grandviewresearch.com/industry-analysis/brain-implants-market
https://consequence.net/2022/02/elon-musk-neuralink-brain-chips-monkeys-died/
Fees
Fee on management – 5%, paid on top of the investment amount.
Carried interest – 10% of net profit. Charged at the closing of investment, after the rest of the commissions are paid.