Apply
Until

Jun 16

Minimum
amount

Price Per
Share

Current
Valuation
*Unfortunately, we have decided to cancel the investment at this time. We explored multiple avenues to acquire Anthropic shares, including the possibility of purchasing shares from FTX. However, our transaction with FTX was canceled, as it decided not to liquidate its position in Anthropic until further notice. Subsequently, Anthropic began to impose restrictions on secondary transactions involving their equity. This policy effectively hindered our ability to secure shares through alternative means. Our investors were sent a letter with details and an alternative offer.
---
Important disclosure
*We are finalizing the price and valuation terms of the deal. The implied valuation of the deal is a preliminary estimate as it reflects the current market price of the offer.
What is Anthropic?
Anthropic is an AI company founded in 2021 by ex-OpenAI employees, including Dario Amodei, former VP of Research and Tom Brown, former lead engineer for AI language model GPT-3. In March 2023, Anthropic launched Claude, ChatGPT competitor. Their AI chatbot is less likely to produce harmful content. Claude has already impressed engineers and users with its natural language capabilities and ability to generate code.
Recognizing the profound influence that AI is poised to have on the world, Anthropic is committed to designing systems that are dependable, transparent, and controllable. The company is focused on AI safety and research, exploring both the potential benefits and potential risks of AI.
Over the next 18 months, Anthropic plans to develop a "frontier model" called Claude-next, which will be ten times more powerful than existing AI models. This development is expected to cost about one billion dollars. The model is described as a "next-generation algorithm for AI self-teaching." Anthropic's unique AI training method, called Constitutional AI, includes both supervised learning and reinforcement learning phases.
Why Invest in Anthropic?
The company is led by top AI talent with a proven track record of building advanced AI systems. Claude-next will be released in the next 1.5 years. It is expected to be ten times more powerful than the current AI models.

The $300M investment from Google and partnerships with prominent companies highlight the company's potential.

Anthropic's development of reliable and interpretable AI systems addresses growing concerns about the ethical and social implications of AI.

The company's focus on serving "startups making bold technological bets" and larger enterprises positions it for long-term growth and profitability.
Product
Similar to ChatGPT, Anthropic's Claude is a large language model that can be used for a range of written tasks like summarizing, searching, answering questions and coding. The company is positioning its chatbot as more cautious from the start. It's meant to be harder to wring offensive results from it. Thanks to its ethical approach and its ability to produce reliable and secure results, Claude is emerging as one of the most promising chatbots on the market.
Anthropic has already provided its technology to a number of companies, including Notion, Quora, DuckDuckGo, Robin AI, and AssemblyAI (Claude supports its audio data transcription and comprehension API platform).
According to Autumn Besselman, Head of People and Communications at Quora, users appreciate Claude's detailed and understandable responses and the natural feel of their conversations. Users have described Claude as more interactive and creative in storytelling than ChatGPT, and they appreciate the combination of language skills and expertise in Claude's responses.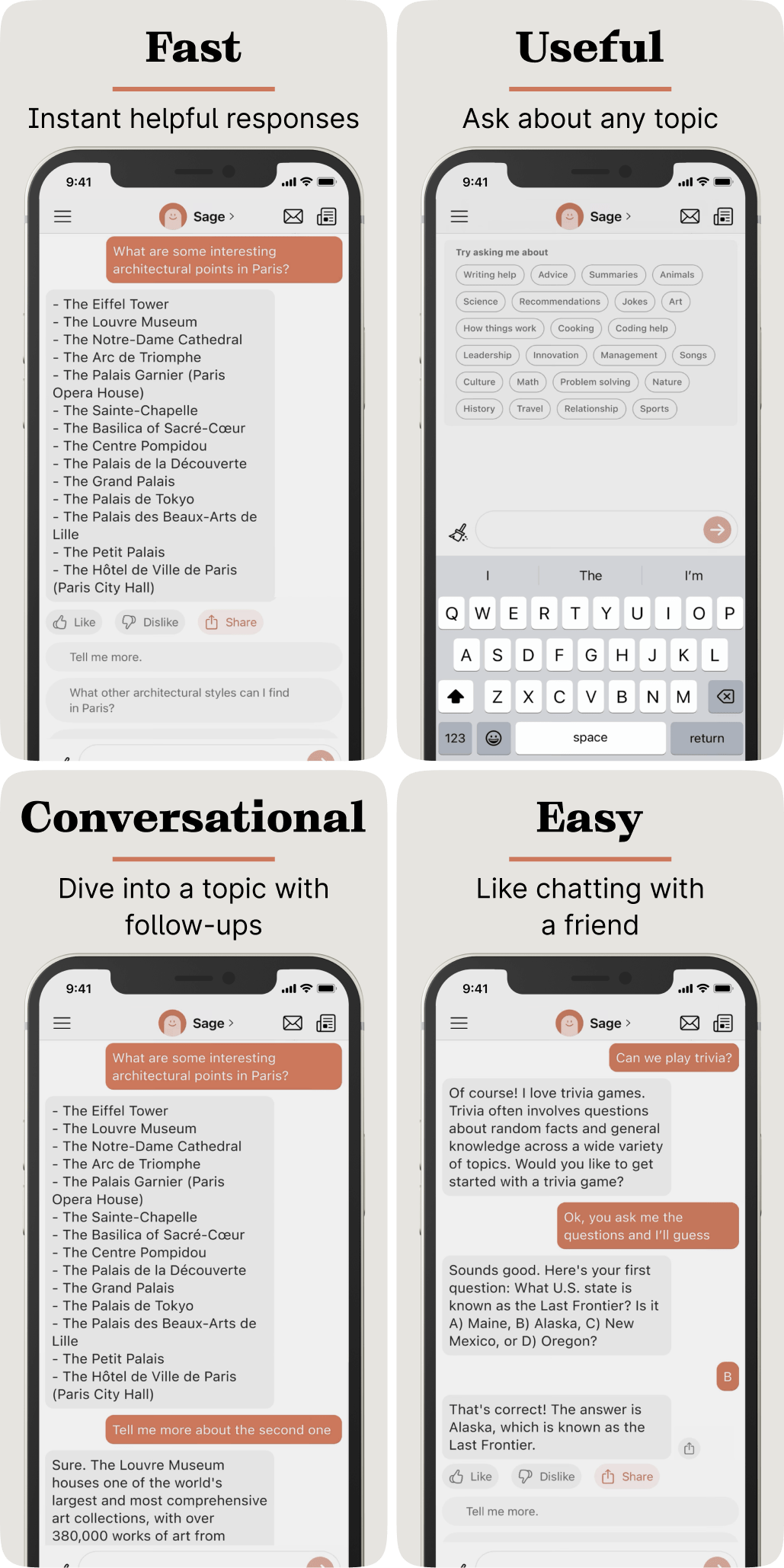 Akshay Kothari, Notion's Co-Founder and COO, stated that the partnership's goal is to help users enhance their productivity using AI. Claude's exceptional creative writing and summarization capabilities contribute to Notion AI, their connected AI assistant. With this integration, Notion users can enhance their writing skills and work more efficiently.
Robin AI, a legal infrastructure company, is using Claude to revolutionize contracts. According to Robin AI CEO Richard Robinson, Claude is proficient in interpreting legal language and proposing customer-friendly alternatives. The technology's drafting, summarizing, and translation capabilities are exemplary. Since integrating Claude, Robin AI has observed increased user engagement, better feedback, and more successful deals.
Market
The AI market is expected to grow rapidly in the coming years, with increasing demand for AI-powered solutions across industries. The growth will be driven by a variety of factors, including advancements in deep learning and natural language processing technologies.
According to Zion Market Research, the global market for AI is projected to increase from $60B in 2021 to $422B by 2028 with an impressive compound annual growth rate (CAGR) of 39.4% during the period. The conversational systems market is expected to triple in size by 2028.
Financials
Anthropic has raised a total of $1.3B from a variety of investors, including Google, Jaan Tallinn, James McClave, Dustin Moskovitz, Salesforce Ventures, and Spark Ventures. The latest financing round in March 2023 valued the company at $4.1B, equivalent to $11.23 per share. As of now, the company is valued at $4.6B on the secondary market.
In February 2023, Anthropic received a $300M investment from Google, highlighting its potential as a leading AI company. TechCrunch has obtained documents indicating that Anthropic, an AI startup, is planning to raise $5B in the next two years to challenge not only Google, but also OpenAI, the creator of ChatGPT. The goal is to penetrate a dozen major industries.
Team
Dario Amodei has an impressive background in AI research and development. As the former Vice President of Research at OpenAI, he led the development of GPT-2 and GPT-3, spearheaded safety research aimed at making AI systems more transparent and aligned with human values. Prior to his time at OpenAI, Dario worked as a deep learning researcher on the Google Brain team. Dario's academic background includes a PhD in physics from Princeton University, where he focused on statistical mechanics models of neural circuits and developed new devices for intracellular and extracellular recording. He also served as a postdoctoral scholar at Stanford University School of Medicine, where he worked on searching for cancer biomarkers.
Anthropic's team includes other top AI talent from OpenAI, including Tom Brown, lead engineer for AI language model GPT-3, and OpenAI's former policy lead Jack Clark.
Risks
General risks of investing in private companies
Company-specific risks
Competition. The market for AI solutions is highly competitive and has a number of players, including OpenAI (ChatGPT), Cohere, Adept AI, Inflection, Hugging Face. This could impact Anthropic's market position and profitability.
Market overvaluation. Due to current hype, there is a risk that the company's valuation has currently outgrown its pace of product development.
Sources
AI Startup Anthropic Pursues $5B Investment for OpenAI Showdown — Report, EnterpriseAI, Apr 2023
Introducing Claude, www.anthropic.com, Mar 2023
Meet Claude: Anthropic's Rival to ChatGPT, Scale.com, Jan 2023
Google invested $300 million in AI firm founded by former OpenAI researchers, The Verge, Feb 2023
Google-backed Anthropic launches Claude, an AI chatbot that's easier to talk to, The Verge, Mar 2023
Anthropic launches Claude, a chatbot to rival OpenAI's ChatGPT, TechCrunch, Mar 2023
Conversational AI Market by Offering, Conversational Interface, Business Function, Channel, Technology, Vertical and Region - Global Forecast to 2028, MarketsandMarkets
$422.37+ Billion Global Artificial Intelligence (AI) Market Size Likely to Grow at 39.4% CAGR During 2022-2028 | Industry Trends, Share, Growth, SWOT Analysis, Zion Market Research, Jun 2022
Dario Amodei, PhD, Hertzfoundation.org
Offering
Deal Structure
Dizraptor Fund LLC is formed for the purpose of acquiring common shares of Anthropic. The interests in the fund are offered to accredited investors, who, after signing a subscription agreement, become its members.
Dizraptor always seeks the optimal ownership structure for its investors. In certain cases, when direct ownership of shares is unavailable due to restrictions of a private company, Dizraptor fund will consider alternative ways of equity exposure, such as double or multiple-layer SPV partnerships or forward agreements. In this case, Dizraptor's investors will have indirect access to Anthropic.
View SPV's Documents
Limited Liability Company Agreement (pdf)
Confidential Private Placement Memorandum (pdf)
Subscription Agreement & Privacy Notice (pdf)
Investment Management Agreement (pdf)
Fees
Fee on management – 5%, paid on top of the investment amount.
Carried interest – 20% of net profit. Charged at the closing of investment, after the rest of the commissions are paid.