Apply
Until

Dec 11

Minimum
amount

Price Per
Share

Current
Valuation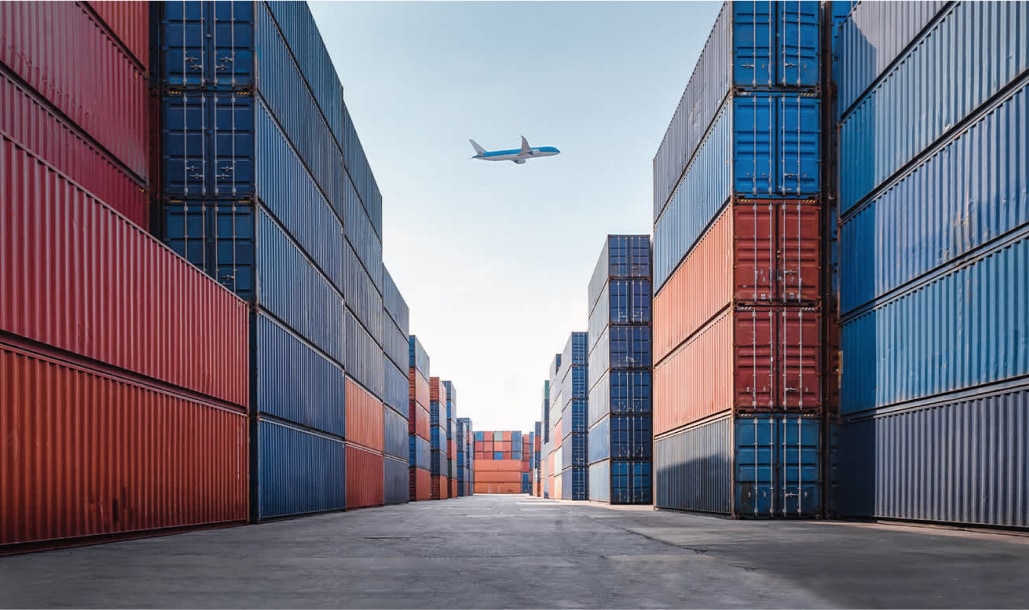 Forwarding freight to the future. Flexport
Flexport makes global trade effortless. Invest in the digital future of freight forwarding!
Important disclosure
*We are finalizing the price and valuation terms of the deal. The implied valuation of the deal is a preliminary estimate as it reflects the current market price of the offer.
About Flexport
Flexport is a modern freight forwarder that provides companies with a one-stop solution for managing their freight needs through its digital platform.
The company is building a one-stop-shop for information on global shipping, which involves having a digital version of every item in the shipping process, so that information is always up to date and easily accessible.
It streamlines the shipping process and provides real-time tracking, visibility and other value-added services such as warehousing, inventory management and order fulfillment. Flexport aims to make global trade more efficient, transparent and predictable for its clients.
The platform combines cutting-edge technology, logistics infrastructure, and expertise to help companies transport, finance, and make informed decisions about their cargo. Flexport connects more than 10,000 clients and suppliers. Among its customers are Georgia-Pacific, International Medical Corps, Ring, Sonos and other international companies.
Why Invest in Flexport?
Steadily growing revenue
With the help of Flexport, companies from 112 countries moved $19B worth of goods (gross merchandise volume) in 2021. This brought Flexport $3.3B in gross revenue in 2021, a 154% YoY increase from $1.3B in 2020 and $670M in 2019.
According to the company, it was expected to reach approximately $5B in gross revenue by the end of 2022. It is important to note that for freight forwarders, gross revenue is the total amount of compensation received from customers for the movement of goods during the year.
Strong and unique technological solution
Flexport has developed a platform that offers a range of services including freight forwarding, customs brokerage, warehousing, and transportation management. According to CB Insights, Flexport has a total of 13 active patents globally.
Integrated platform allows customers to manage all aspects of their supply chain in one place. Flexport also uses machine learning and artificial intelligence to automate and optimize key processes such as route selection and cargo booking. In addition, Flexport's platform is designed to be highly flexible and customizable to meet the unique needs of different customers and industries.
Shipping and logistics industries are in need of disruption
According to McKinsey and FarEye studies, over 75% of supply chain executives named supply chain visibility as a top priority in 2021, while 94% of businesses do not have full visibility of their supply chain and logistics operations.
The freight forwarding industry has exhibited a significant level of susceptibility to disruptions, particularly in light of the COVID-19 pandemic. As a result, transport companies are aggressively implementing digital solutions to augment their operational efficiency and mitigate the risks of future disruptions.
This presents a lucrative investment opportunity as the market for digital freight forwarding is projected to have a compound annual growth rate of approximately 24.2% in the upcoming years, as more companies seek to digitalize their logistics processes.
New CEO from Amazon has outlined bright opportunities ahead
Flexport aims to use technology, specifically an API layer, to streamline and automate the freight forwarding process in the logistics industry. This will enable various players in the industry to coordinate more efficiently.
Flexport's new CEO, Dave Clark (joined in June 2022), has experience in this field from his 23 years at Amazon where he worked on similar projects. The ultimate goal is to enable merchants of all sizes to improve their market presence by offering cheaper products, more selection and competitive shipping options.
Financials
Flexport reported a gross margin of 20% in 2021, resulting in total gross profit of approximately $660M. Gross margin represents the revenue remaining for freight forwarders after paying the carriers (such as Maersk) that physically transport the goods.
Flexport continues to expand its volume, and its gross margins are expected to grow as well. Net income margin, which represents the amount remaining after factoring in the cost of goods sold, operating expenses, interest, and taxes, is typically ranging from 3% to 8%.
In 2021, Flexport reported a net income margin of around 1.1%. The company made its first profit of $37M on its $3.3B in gross revenue, and will be improving this metric in the upcoming years. Despite being a low-margin business, Flexport can have high returns on capital due to its asset-light nature, as forwarders do not own most of the underlying transport assets, with working capital being the primary asset on the balance sheet.
Risks
General risks of investing in private companies
Company-specific risks
Flexport's business is closely tied to global economic conditions. Any disruptions in international supply chains can lead to decreased freight volumes and negatively impact the company's performance.
The digital freight forwarding industry is highly competitive and has a large number of players, including Twill, FreightHub, Fleet, Convoy, InstaFreight, Transporteca, Kontainers, KN FreightNet, Turvo, iContainers, DHL Group, Kuehne+Nagel International AG, and Agility Logistics Pvt.
Sources
Flexport - Headquarters Locations, Products, Competitors, Financials, Employees, CB Insights, Jan 2023
Flexport revenue, valuation & growth rate, Sacra, Jul 2022
Global Digital Freight Forwarding Market (2022-2027) by Mode of Transport, Deployment Mode, Function, Application, Geography, Competitive Analysis and the Impact of Covid-19 with Ansoff Analysis, Research And Markets, Feb 2022
Looking Ahead - Dave Clark to Join Flexport As Our New CEO, Flexport website, Jun 2022
Startup funding in logistics: Focused investment in a growing industry, McKinsey Insights, Jun 2022
Challenges in supply chain visibility & how to solve them, FarEye, Oct 2022
Offering
Deal structure
Dizraptor Fund LLC is formed for the purpose of acquiring common shares of Flexport. The interests in the fund are offered to accredited investors, who, after signing a subscription agreement, become its members.
Dizraptor always seeks the optimal ownership structure for its investors. In certain cases, when direct ownership of shares is unavailable due to restrictions of a private company, Dizraptor fund will consider alternative ways of equity exposure, such as double or multiple-layer SPV partnerships or forward agreements. In this case, Dizraptor's investors will have indirect access to Flexport.
Fees
Fee on management – 5%, paid on top of the investment amount.
Carried interest – 20% of net profit. Charged at the closing of investment, after the rest of the commissions are paid.