Apply
Until

Oct 31

Price Per
Share

Current
Valuation

Minimum
amount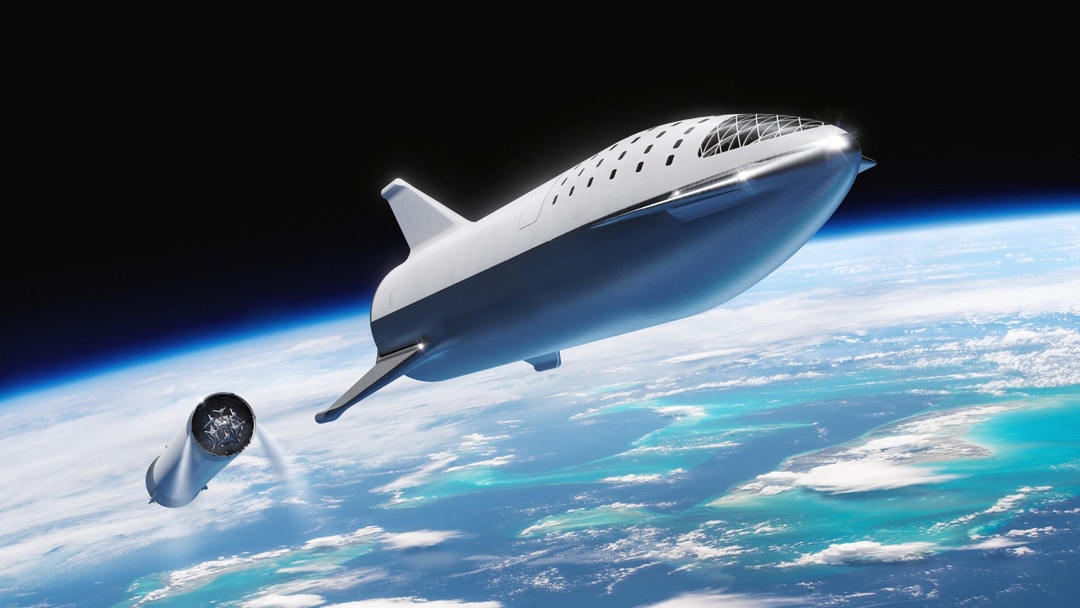 Video about SpaceX
This investment is about to start. We have completed collecting funds from investors and are finalizing the transaction. Tap "Invest Now" to see current offerings!
---
*Deal's implied valuation is a preliminary estimate as it reflects the current market price of the offer. After collecting funds from investors, Dizraptor.app places a bid through the internal network of counterparties and sellers. Dizraptor.app acts in the best interest of its clients and seeks the best terms of the deal. Depending on the market conditions, the final purchase price may be adjusted.
Quick Overview
Website
Product
Reusable rockets, spacecrafts, transportation and satellite Internet
Total funds raised
$9.5B
Last round
Jun 2022. Valuation $127B
Famous investors
Fidelity Ventures, Google, NASA, Bank of America
Why Invest in SpaceX
Second-most valuable private company in the world, behind only China's ByteDance.
Wide range of breakthrough projects – SpaceX carries NASA astronauts to the ISS, takes people for joyrides into space, and delivers communications satellites into orbit. Eventually, it wants to transport people to Mars.
A series of firsts in its industry – the first to launch, orbit, recover, and reuse the same rocket, the first to ferry passengers into space, and the first to reach a valuation of $100B while still a private company.
Huge growth potential in aerospace and communications. Morgan Stanley survey revealed that institutional investors and industry experts expect SpaceX to become more valuable than Tesla. For reference, Tesla has managed to soar to a $1T market cap in 2021.
Starship and Starlink projects met with early success. SpaceX has launched 2,500 Starlink satellites to date. The network has more than 400,000 users in 14 countries who are participating in a public beta, with service priced at $110 a month.
Elon Musk has proven to be adept at raising capital for his many ventures. Private investment in space companies rose to $1.9B in the H1 of 2021. Investment in this area has grown top-heavy in recent years, with only a handful of companies drawing in the lion's share of funding. Fortunately, SpaceX has been among them.
High market growth potential. SpaceX is operating in a number of large and growing markets. Among them are deep space exploration market (to reach $700B by 2030, Morgan Stanley Research), space launch services market (to reach $32B by 2027, Allied Research), satellite internet market (to reach $19B by 2030, Allied Research).
SpaceX and Tesla are the most desirable places to work for engineering graduates, according to the recent survey.
Business Growth Phase
Product
SpaceX was founded in 2002 by Elon Musk to revolutionize space transportation offering reusable rockets with the ultimate goal of making life multiplanetary. The company designs, manufactures and launches the most up-to-date rockets and spacecrafts. It also aspires to become the leading and first satellite service provider delivering high-speed Internet to users from all around the world.
Starship is a massive, next-generation rocket to launch cargo and people on missions to the Moon and Mars. In May 2021, Starship prototype aced a high-altitude test flight from South Texas. Reaching orbit is the next step in testing the rocket, with SpaceX awaiting regulatory approval for its next launch. Starship is likely to be priced early around $150–250М per launch.
Started launching Starlink satellites in 2019, the company now has already more than 2,500 Starlink satellites in orbit, a constellation far larger than any other satellite system today. Musk expects to have more than 4,200 satellites in operation within 18 months. This would represent about two-thirds of all active satellites globally. SpaceX has signaled it eventually intends to launch as many as 42,000 satellites. The company has recently reported 400,000+ global subscribers, up from 250,000 in March 2022 and 150,000 in December 2021. Starlink also continues to expand its coverage globally with service now available in more than 30 countries.
Financials
SpaceX's last reported revenue of $2B was in 2019, and the company does not disclose any financial information. According to Morgan Stanley, Starlink (launched in 2019) alone is currently generating $500M+ recurring revenue. As of June 2022 SpaceX has raised a total of $9.5B.
During the funding round in February 2021 the company raised nearly $1.2B at $74B valuation. In October 2021 SpaceX held a secondary sale of existing shares at the valuation of $100.3B. It made it the second-most valuable private company in the world (behind China's ByteDance).
In May 2022 SpaceX raised a massive round of fresh funding, sending its valuation to about $127B. It has brought in up to $1.725B in new capital, at a price of $70 per share.
Investment Rounds
Investors and Their Most Famous Exits
NASA – Viasat, Northrop Grumman.
Baillie Gifford – Airbnb, NIO, Lyft, Slack, Ginkgo Bioworks.
Bank of America – Bill.com, Dropbox.
Fidelity – Spotify, Uber, Airbnb, Pinterest.
Google – Tesla, Zynga, JD.com, Baidu.
Founders Fund – Meta, Twilio, Oculus, Affirm, Upstart.
Risks Related to SpaceX
SpaceX is operating in a high-risk growing market. The company is burning a lot of cash while having high overall costs. Given the rising interest rates environment, SpaceX might experience problems in fundraising.
In some business segments SpaceX may be faced with intense competition. Its Starlink satellite network program competes with Amazon, who's planning to launch its Kuiper network with more than 3,000 satellites; though it hasn't yet revealed its production plans or launched any satellites yet.
Speaking of space exploration and Mars colonization, a lot of issues need to be solved – high levels of radiation, thin atmosphere, food and water production in space and others. However, whether or not Elon Musk is able to explore planets, SpaceX is in the best position to give it a shot.
Sources
"SpaceX expected to become more valuable than Tesla, Morgan Stanley survey finds", CNBC, Oct 2020
"SpaceX passes 2,500 satellites launched for Starlink internet network", Spaceflight Now, May 2022
"SpaceX Starlink internet: Costs, collision risks and how it works", Space.com, Apr 2022
"Bank: Starlink worth $81bn", Advanced Television, Dec 2021
"Start-Up Space. Update on investment in commercial space ventures 2022", BryceTech (pdf)
"Spotify, SpaceX among top employers Gen Z wants to work for, according to a new report", CNBC Make It, Jun 2022
"Deep Space Exploration and Technology Market By Technology Mode (Rockets, Landers, Robots, Satellites, Orbiters), By Application, By Subsystem, By Mission Type, By End Use, By Region Forecast to 2028", Emergen Research, May 2022
"Space Launch Services Market by Payload (Satellite, Human Spaceflight, Cargo, Testing Probes, and Stratollite), Launch Platform (Land, Air, and Sea), Service Type (Pre-Launch and Post-Launch), Launch Vehicle (Small [Less than 300 ton] and Heavy [Above 300 ton]), and End-User (Government & Military and Commercial): Global Opportunity Analysis and Industry Forecast, 2020–2027", Allied Market Research, Apr 2020
"Satellite Internet Market by Band Type (C-band, X-band, L-band, K-band, and Others) and End User (Commercial Users and Individual): Global Opportunity Analysis and Industry Forecast, 2020–2030", Allied Market Research, Jun 2021
"Rocket Report: Meet the Gravity-1 rocket; will Starship really cut launch costs?", Ars Technica, May 2022
"Elon Musk's SpaceX hits $100 billion valuation after secondary share sale", CNBC, Oct 2021
"NSR's Newest Report: Moon Missions to Generate $42.3B over the Next Decade", GlobeNewswire, Apr 2021
"Elon Musk's SpaceX now valued at $100 billion", Space.com, Oct 2021
"SpaceX just brought the first all-tourist crew back from space. Here's what's next", CNN Business, Sep 2021
"Amazon, fighting SpaceX's Starlink plans, says Elon Musk's companies don't care about rules", The Verge, Sep 2021
"SpaceX faces possible liquid oxygen shortage for rocket fuel amid pandemic", Space.com, Aug 2021
"Elon Musk's SpaceX Is Now 100X a Unicorn Stock", The Motley Fool, Oct 2021
"Is SpaceX Really Worth $74 Billion?", Forbes, Apr 2021
Offering
Deal Structure
Dizraptor Fund 1005 LLC is formed for the purpose of acquiring Common shares of Space Exploration Technologies Corp. The interests in the fund are offered to accredited investors who after signing a subscription agreement become its members.
View SPV's documents
Subscription Agreement & Privacy Notice
Confidential Private Placement Memorandum
Limited Liability Company Agreement
Investment Management Agreement
Fees
Fee on management – 5%, paid on top of the investment amount.
Carried interest – 20% of net profit. Charged at the closing of investment, after the rest of the commissions are paid.